May 16, 2016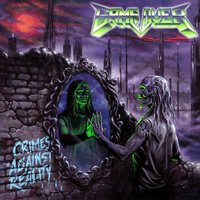 Lyrically melodic entry a few unexpected for that style What Lies Within...
starts raging rush of Game Over - Crimes Against Reality.
33 Park Street starts quickly and actively demolish and destroy consciousness by riffs - you have to understand "What lies within 33 park streats!"
Riot not complacent, but slows down the tempo Neon Maniacs, but the instrumental part at the end gathering pace.
Begins like a ballad With All That Is Left gains the power in chorus and pick up speed in 2 verse, to drop it down in 3 verse and instrumental solo. So in the composition varies a lot of styles, techniques and rates!
Mystical intriguing beginning starts Astral Matter to continue in mid tempo pace. Long, enveloping by expectations entry becomes uneven rhythm, where vocals shows its leaps from side to side.
Fugue in D Minor brutal from start without hesitation and preparation, but suddenly there appears a harpsichord!
Tearing and breaking intro opens Just a Little Victory to estimate the live music and dance rhythm by slam, wall of death or etc in music-hall!
Guitar resembles a swarm of dragonflies by their cry opening Gates of Ishtar. Verse a bit faster and has more might&power, but swarm was recalled in chorus supports the demands "Ishtar! Leave us away! Ishtar! Show us the way! Open The Gates!"
It starts with a solo drum, continues by guitar solo, title track of that artwork Crimes Against Reality. Vocals joins with the indication of a crime, and the prosecution of those who responsible for that!
Repairing was offered by that track - Fix Your Brain. Well, fix brain fussy and hastily! The rate of brain mending subsides in the instrumental middle to speed up after it - it is urgent! So - f-f-fix your Brain!