September 10, 2021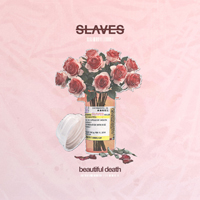 Inspirational vocal mood starts the musical history of the Slaves (USA) - Beautiful Death album with melodic and dreamy sound of the I'd Rather See Your Star Explode song, then transforms musical variations with shades of futuristic mystery and echoes of dance music in the sound of the Patience Is The Virtue track, which transforms into romantic ballad with introduction of vocals, anticipating development of romantic mystery in the sound of the True Colors song.
The music is transformed with assertion and inspiration, bringing elements of progressive complexity to the sound of the Let This Haunt You solemn procession. The Petty Trappin song brings vocal reflections to the forefront of the musical image, wrapping the vocal reflections in a twilight cloak of musical mystery. Beginning with a dusky, intriguing mystery, the sound of the I Know A Lot Of Artists composition captivates with its artistic originality.
Sparkling musical swirls call out to vocal reflections, joining them in the enchanting dance of the Deadly Conversations chorus. Insistent, rebellious, and unyielding, the Back To The Roots song pummels with waves of drive in the intro, then complicates the rhythmic structure with vocal doubts. After an intriguing introduction, the vocal part comes to the forefront of the Warning From My Demons musical image. The Pact thoughtful ballad completes the album with an atmosphere of calm and conciliation.