September 09, 2021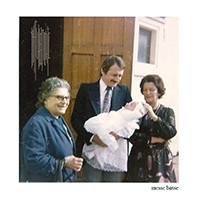 Thoughtfully and intriguingly preparing the intro of the Nature Morte - Messe Basse album, the music winds up with a soft chiming guitar solo, then only coming in with an emotional vocal screeching, keeping the melodic charm of the musical narrative in the intro of the Only Shallowness song, staging a solemn procession in an inspired emotional mood. The White Goat Dark Hoof composition continues and develops the musical motifs of the previous musical creation, then speeds them up and gives them the power of frenetic musical drive combined with vocals fury.
Soft and enchanting guitar passages create an intriguing picture of the Knife introduction, but then a muffled screech of demonic screeching scratches the vocal claws of the proclamation calling for the rise of the dark anthem in the grandeur of the twilight solemnity of musical enchantment. Beginning with a romantic guitar solo, the T.S.O.C track then creates an atmosphere of unity between an enchanting ballad and ritualistic shamanic chants and enchantments.
The Beautiful Loss intro's musical mystery creates an intriguing suspense, then explodes with a sharp musical stream of frenetic thriller, combining musical swiftness with unbridled vocal fury. The Night's Silence song envelops the enchantment of melodic variations, enveloping the vocals reflections in a veil of sparkling artistry of musical melody and enchanting sound, marching in a solemn procession of majestic and meaningful anthem. The Messe Basse title track concludes the album with the intriguing instrumental mystery of an acoustic guitar solo.