January 17, 2020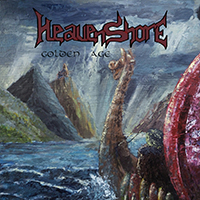 The title track with a soft and majestic guitar solo begins the Heaven Shore - Golden Age album, acting as an introduction to The Bell Of Hope track, complementing the musical essence of sounding with the vocal part and developing the musical motifs of the title song.
Forcing disturbing forebodings, the Blood On The Sword main motive on the crest of the wave lifts clean vocals. Twisted around the alternation of clean vocals and growling, the Sword Of The Gods whirlwinds of guitar riffs captivates and captures attention. Slightly restraining the tempo of the musical narration The Fight combines a magnificent anthem and a mid-tempo march in the musical canvas, crowning them with sparkling keyboard passages. After a fascinating introduction, the Horizon develops its motives and builds up his pace, returning to a mid-tempo narration in the vocal part.
Returning to epic reverie Fallen Star builds the structure of an inspired saga, giving it the style of a bard ballad. Driving in waves of severe drive War Of The Seas combines the whirlwinds of northern snowstorms with shades of oriental folklore, alternating growling with clean vocals in the vocal part.
The guitar solo in the structure of the Pagan North and The Last Stand songs main motive captivates the attention of the audience, retreating to the background in the introduction and coming to the fore in bridges and choruses. Shore Of Fiery Lake ends the album with an epic saga. which focuses on the narratives of clean vocals.