January 18, 2020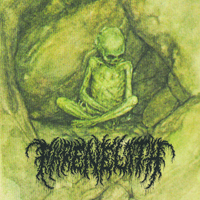 Severe pulsation pumps the waves of darkness, enveloping the surrounding space with twilight haze from which flickering ghostly entities appears. The Gorgonhead composition begins the musical narration of the Phrenelith - Chimaerian Offspring album with a dense mid-tempo sound of a powerful drive, bringing musical passages to the forefront, leaving a deep growling vocals part on the background.
The viscous, gloomy narration of the Kykytos instrumental saga slowly walks in the gloomy atmosphere of the funeral procession, enveloping the listener with shrouds of darkness and entangling attempts to be freed by gloomy threads, as if confusing the desire to free oneself with a funeral shroud.
The title track Chimaerian Offspring completes the album, combining the viscous dusk of vocal narration and the swirling whirlwinds of the musical canvas, sometimes transforming into the viscous viscous dusk of instrumental bridges, rising in the refrain to the head of the musical narrative, going to the forefront of the musical image and completing the album with certain trends of combining various musical styles in one composition.