January 28, 2019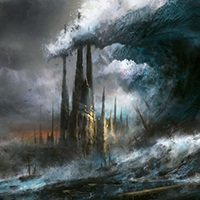 The noise of the surf and the appeal of a distant forge begins the epic narration of the Nyktophobia - Fate of Atlantis conceptual album, upraising the majesty of the first composition Ballad of Neptune with wondrous instrumental melodies, complementing with the harsh phrases of deep growling vocals the enchanting significance of the musical image.
Swiftly carried along the waves of the ancient sea, the sound of Lost Kingdom song separates the inspired melodic passages of guitar solo and the harsh background of pensive rhythm, combining these parts of musical narration with threads of vocal phrases.
The Radiant Crown main motive bursts into the album with an impetuous fierce flow of musical drive, enveloping stern vocal phrases with brooding guitar passages.
The distant storm anticipates the entry of instruments, then the drums prepare for the entry of the Taken by Storm vocals with the marching drumroll, then carrying it through the storm to the upcoming trials.
Weaving solemn anthem's laces Pillars of Hercules. envelops brooding march veils of romance, parading on the verge of a mid-tempo ceremonial march and wandering bard's romantic ballad.
The title track Fate of Atlantis soars from side to side, vocal phrases parade along the central axis of these musical wanderings, alternating and intertwining with the guitar solo, which dominate the image of the composition's leitmotif.
Fascinating guitar solo rises above the pulsating march of the rhythm of the section, carried away in anticipation of the upcoming wanderings of the Riders of the Surging Billows instrumental composition.
The gloomy thoughtfulness of the Trident of Doom introduction is pierced by the guitar solo and complemented by the brooding phrases of the deep growling of the vocal part, returning to the intro in the bridges and choruses. Realms of Hades is like continuing the previous composition to the intro, then raising melody above the stern drive and completing the album with epic inspiration.