January 27, 2019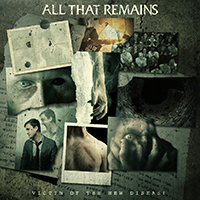 The irritated hum of the guitar solo in the Fuck Love introduction calls for violent outbursts of anger incarnated in a swift verse and sparkling madness in the chorus and subsequent medium tempest indignation. After indignation and rage, the All That Remains - Victim of the New Disease album continues with a romantic atmosphere of soft and gentle middle tempo composition Everything's Wrong, inspiring and enveloping romance.
Vortex of furious drive twists a marvelous melody, then the Blood I Spill vocal forces a wave of pulsating march, giving way from a rough growling of verses to romantic dreams of clean style in chorus. Wasteland continues a similar style, rolling violent waves along with growling in the verses and ascending with romantic dreams in the choruses.
The peace-loving and calm ballad Alone in the Darkness envelops you with the brooding atmosphere of an enchanting romance, creating an oasis of relaxation and restoration of spiritual strength. A revolt of violent wrath of Misery in Me verse, powerfully pulsing and leisurely driving in the beat of a harsh march turns into seductive. Broken continues with the throbbing march of a militant couplet, anticipating the dreamy exaltations of the chorus in delighted gusts. Fascinating memories of native places Just Tell Me Something (feat. Danny Worsnop) ballad gently and charmingly anticipates the shades of a powerful drive in the chorus, returning again to the memories and experiences.
Expanding the stylistic framework of the album I Meant What I Said envelops you with memories of traditional rock, complementing it with inherent this band's style. Returning to the inherent in the album the alternation of harsh verses and romantic choruses title track Victim Of The New Disease completes its musical spaces.