May 14, 2021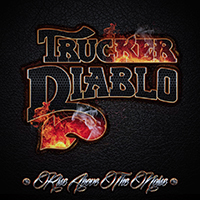 Inspirational vocal invocations are intertwined in an enchanting dance with the musical passages of the Fight Life song. Fierce with rebellious tendencies the guitar solo of the intro, the Party Like They Started The End Of The World composition continues the Trucker Diablo - Rise Above The Noise album with more freedom-loving and rebellious mid-tempo reflections. After the twilight intrigue of the verse, the Somebody Save Me song lifts the vocal part to the crests of musical waves in bright grandeur.
The drum roll of the intro pushes waves of severity with the echoes of a battle march in the sound of the We Stand Strong composition. Dispelling anxieties, the Where Angels Fly song begins with a keyboard solo, then enchants with the romantic sound of a melodic ballad. Captivating with the sound of the Girl In A Photograph main motive, the vocal part complements it with meaning and meaning.
The sound of the Take Me To The River composition complements the musical sphere of the album with some country-style influences, complementing the vocal part with the background tunes of the singing lady. The Murder Ballad song captivates with a very hit ballad, complementing the vocal sensuality with the melody of guitar solos and instrumental bridges.
Spicy musical passages complement the Sun Deprives The Day vocals experiences with appropriate musical support. The Don't Cry concludes the album with reflections of a soft and tender romantic ballad.