May 25, 2021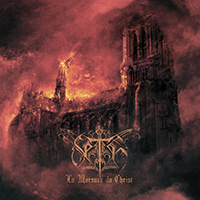 Swiftly and furiously whirling into a whirlwind of frantic drive, the Seth - La morsure du Christ title track flies in the unrestrained flight of the verse, complementing the compositional structure with the mid-tempo march of the chorus. The solemn anthem of the Metal noir song glorifies with the melodic lace of musical artistry the musical genre chosen by the band for their artworks.
The melodic introduction captivates with artistic magic, then the Sacrifice de sang epic saga captivates with melodic variations. The main motive of the Ex-cathedrale song immediately captures in the impetuous pursuit of melodic delights. But the chorus slows the procession down to a solemn procession after the melodiously enchanting guitar solo.
The introduction instigates with a leisurely mystery, but with the introduction of the vocals, the Hymne au vampire (Acte III) music flies in a swift whirlwind entwined with melodic sparks of guitar notes. The final part of the composition weaves the soft chime of an acoustic guitar with the background chants of the singing fairies. The symphonic charm of the Les oceans du vide song's intro continues with a combination of symphonic atmosphere and fast-paced drive. Entering an epic procession of unrestrained drive, crowned with melodic veils, the Le triomphe de Lucifer song flies on the wings of an unrestrained musical dragon, continuing with the inspired chants of the adepts and epic appeals of the solemn symphony.
Redesigned instrumental versions of the Les oceans du vide - Version claviers and Sacrifice de sang - Version claviers compositions with symphonic keyboard suites complete the album with melodic charm.