May 22, 2021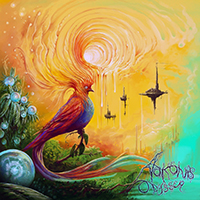 Gloomy and disturbing guitars solos are combined with vocal severity in the dark dismay of the Rebellion composition, ending the musical fragments with the inspiring and resisting-prone melodies of clean vocals. The vocals are at times hardened from furious harsh to low-key growling. The title track continues the musical narration of the Vokonis - Odyssey album with a more progressive and artistic sound, complementing the inspirational tunes of clean vocals and emotional harsh with the artistry of keyboard passages and the melodic charm of the unity of this charm with the melodism of guitar riffs.
The disturbing drive of a musical thriller with anxious growling vocals alternates into the sound of the Blackened Wings composition with the confident inspiration of clean vocals, marching along the chosen musical path. Musical persistence builds up anticipations of unexpected changes, then complements the sound of the Azure song with vocal anxiety, but then raising the banners of hope with inspired melodies of vocal phrases.
Music intertwines with vocal phrases in a waltzing procession of the Hollow Waters brooding ballad, enveloping the listener in a dreamy lace of mesmerizing covers, sometimes exploding with the emotional indignation of harsh vocals, then combining it with dreamy appeals of clean vocals. The Through the Depths song concludes the album with a separate musical artwork, combining in a musical fairy tale the unity of a variety of vocals styles and musical variations.