April 27, 2018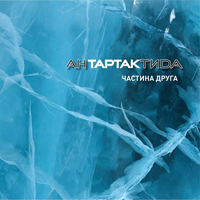 Album Тартак - АнТАРТАКтида. Частина Друга proves the inherent band's feature - it is combining so incredible variety of styles on one disc. Jokingly walks along the chosen path, bringing a light and playful sound, Ла-Інтро combines guitar urges and keyboards passages that is completing musical ideas.
Hard and stubborn Людинаміт rolls a wave of violent drive, accentuating the title in the introduction and choruses, supplementing the rhythmic recitative and notes of rap in verses.
Rolling the main motive with a mysterious kaleidoscope, basing the sound on the bass guitar part Геть Негатив calls to discard all negative - let's throw all negative away, outcast it forever and ever! After playful and persistent compositions, Блюз envelops the atmosphere of sad romance, supplementing with meditative blues past entertainments.
But entertainment is not left alone - the body required tequila, Текіла hints at what consequences might threaten the fulfillment of any whims.
Well, the statuses have their whims - but the sex drive Гей Киці sometimes captures the perception completely, leaving no chance to distract from the desire to ...test all of the cuties.
After addressing the origins of rock music, the furious punk drive Лає-Лає is combined with the traditional spirit of the ageless rock 'n' roll.
So thoughtful ballad Самокат, the recitative of the vocal tends to contain a lot of meaning in verses, in the choruses romantic meditations promise to dream of you without sleep and rest.
The persistent recitative of the vocals in verses rushes from thought to thought, trying to find the correct path forward, but in the Вищий Рівень chorus vocals phrases assert that in unity the force is the highest level of mutual understanding in teamwork.
Funny and fun Стара Школа proves the certainty that energy and youth depend not only on age and form, but also on a spirit of mind and self-reliance. Well, the old school of experience will give everyone a head start!
But the abundance of experience brings a lot of doubts in excessive knowledge - do not rely on fortune and luck, in any situation you have to protect yourself. Mind, voice and heart demands - Бережи Себе! Save yourself!
Such a diverse and multifaceted album completes track А Я Просто Мовчу, showing all the best features embodied in this musical artwork.