May 13, 2018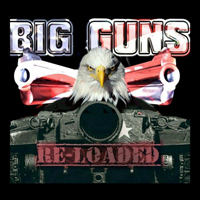 The siren announces the danger, the dense and persistent Take You Down Alive sound gathers all and calls for self-sacrifice in the name of a high goal, starting the Big Guns - Re-Loaded album with an appeal to understand the most important goal. Dense sound and vocal phrases are not left alone, seeking perception and understanding at the highest level of consciousness.
The fascinating intro dispels doubts, then Inside Your Dreams in so mysterious anticipation of the coming events in the verse anticipates the bridges, returning to an exciting motif from the introduction in the choruses and instrumental bridges.
Life Goes On as if continued the previous track with its intro, then with the connection of the vocals transforming music with the vocal duet, fusing the male and female vocals into the single canvas, complementing the sound with energy and emotionality.
The guitar juggles with thoughts, creating a whirlwind of experiences, protecting vocal reflections Addiction from external influences and preserving their impartial perception of the surrounding world, supporting a tight and meaningful rhythm section.
So fascinating mysterious Sweet Jesus sound envelops romantic legends, not letting go of its tempting narrative, captivating with its mysterious judgments in verses and raising an emotional splash in bridges and choruses. The End of Time main motive lingers in the verses, gathering energy and mood, splashing out in the choruses the accumulated emotions of all comrades-in-arms and adepts.
Mysteriously and romantically Invincible developing the introduction and the beginning gently and mysteriously gets to the main part of the composition, creating the wave of epic drive in it.
Drive immediately and tightly captures the Dysfunctional sound, dispelling any doubts and resistance from all sides, not rushing away in rapid jerks, but confidently rolling up the pressure at an average pace.
Blues music captures House of Pain vocal phrases, concealing the desire for a sharp drive and violent jerks, but then the power captures the board composition in their hands, complementing the aspirations of confidence and sonority.
The Don't Kick Me composition completing the album combines the measured sound of the previous one with confidence in the need for subsequent changes, combining the rebellious character with several vocal parts.