September 11, 2019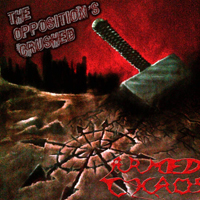 Instrumental acoustic guitar solo of The Calm Before the Chaos track envelops with impressive reassurance, anticipating the development of the main events of the Armed Chaos - The Opposition's Crushed album. Immediately after the enchanting melody Hell to Pay explodes in a flood of unbridled drive of the introduction and the verse, bewitching the alarming melody of the guitar solos of the instrumental part and bridges.
In the painful musical passages, a brief glimpse of a whirlwind of guitar solos arises, then the vocals intertwines with the musical passages in the stern march of the indignant Madness Is Our Message. But the guitar solo of the instrumental part weaves mesmerizing laces of exquisite melody, taking them to dreamy limits. But furious speech returns in the finale.
The furious drive of the Scheduled for Termination introduction, verse and chorus, in which against the backdrop a chorus of comrades-in-arms, ends again with the bewitching charm of an unforgettable and sophisticated guitar solo. The Spiritual Cleansing main motive captivates the mesmerizing whirlwind of a mid-tempo anthem enveloping vocal phrases with the insistent waves of an unstoppable march. Guitar solo appears in alarming spiritual appeals, then giving way to the final part.
Guitar solo envelops with alarming forebodings, then the vocal part comes to the forefront of the musical image of the Burn It All Down song, again and again demanding "Burn! Burn! Burn!"
xIntriguingly and mysteriously beginning, the unbridled wave of instrumental drive brings the guitar solo to the forefront of the Burn It All Down musical image, anticipating the final composition of the album Hateuary, in which, after a gloomy intro, vocal experiences comes to the fore.