October 26, 2016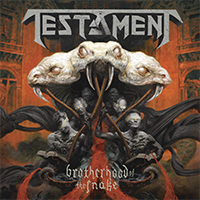 Legends do not die, but they are not born: they are only built on the ashes of a forgotten forever. Testament - Brotherhood Of The Snake becomes a legend based on those things that will be forgotten with or without them!
Indefatigable and fearless energy breaks out from the title track Brotherhood Of The Snake, rushing impetuous irrepressible torrent of words and expressions. Then follows the epic melodic guitar passage and break - to prepare us for the impressive and inspired story, mixing screaming and harsh in spectacular vocal phrases, which completes composition. The rhythmic beats collect crushing riffs, that surrounds with ghostly cover all of us for The Pale King. Perseverance and hard sounds of the story, who is indifferent and ignorant of the difference between life and death, being and undead.
Large enemy troops advancing, pushing back the resistance while is not stopped due to walls of the Stronghold. Sudden and irresistible rhythmic verses flying like squad, until slows down for the rhythmic beats of the chorus. Then the guitar solo evokes marching troops by its laces.
Slowly and impressively advancing story about the Seven Seals, it can be perceived as intense, harsh and tough ballad, that have chosen to change the world around rather than wiping romantic tears!
Confident and purposeful story describing habitual in the light of another understanding, that it is time to change everything - because you just Born In A Rut after beginning to be hindered explanatory clarification in terms of the narrator, gaining rage and anger - how dare you?! You do not want to listen to him! But have to do that!
Fast and furious flying wrath and rage of those who had to endure Centuries Of Suffering. After outbreaks of anger and rage in the verses, the chorus concentrates that. Next - in instrumental solos such emotions wove for a moment in the edge of a sword that cuts that decay apart!
Slowly and mysteriously rises from oblivion Neptune's Spear legend, shrouded in darkness and intricate fictions. Then the tale slow pace for a clearer interpretation of the true meaning of nuanced vocals concentrates meaning in their distinct phrases, envelops with memorable and inspiring guitar riffs.
The main motif begins to piercing as the leitmotif whole Black Jack from the first notes. But this does not in any way annoying and becomes boring - on the contrary, draws, envelops with temptations of darkness, whims and shadows, lures by artificial and charms to the Sin City!
Melodic whimsical lace spreads intro its ornate designs, starts Canna Business tale. Winding path gain power and fury, keeping intelligible onlyfor those who surrounded by their fetters from all sides.
Hammering poles powerful blows The Number Game begins its story, Juggling figures, digits and numbers like meaningless dust particles, playing and changing the rhythmic pattern.