October 08, 2016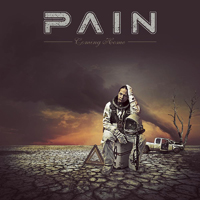 We investigate unexplored spaces, opening new horizons. Then, tired and bored at all - time to Pain - Coming Home . The album brings together the seemingly unconnected - the symphony and industrial motifs, unbreakable bonding them in the firmament stronghold together!
First, the motives appeal to memorabilia, then these familiar melodies exalt the power of their sound to new horizons, combining the desire for the future with the past memories - their purpose was Designed to Piss You Off!
Ascends with unusual sound, that combines symphonic motifs and driving guitar riffs to invisible distant spaces, and then invokes Call Me. Joakim Brodén (Sabaton vocals ) participates in this impressive burst!
A Wannabe inspires and wary by its musical atmosphere, romantic ballad painted gloomy omens, that invests their influence by the symphonic melodic keyboards inserts, that exalts the tunes over the ordinary clouds to the clearest sky!
The rhythmic beats add up to a crushing thrashing rhythm, over which hovers the mysterious sounds of discharges and pulses of uncontrolled electronic boards, causing Pain in the Ass of their developers!
All heroes, knights and all champions always have squires, so that track tells us about Black Knight Satellite. Legend is transmitts with habitual ancient motifs, modernized by rays from the other world and in the light of distant stars.
Wandering among the distant stars revived memories of the dead ground, familiar from childhood. The title track Coming Home is defined by the sublime melancholy motif that carries the soul wandering in the vastness of the galaxy in homes, not allowing to break the link with the long-abandoned habits.
Absinthe-Phoenix Rising violently throws the chains of memories, shackles mind and body with fetters of grief and sorrow. Hey! Hey! Hey - phoenix rising! Come on - fly away! Phoenix rise again!
Symphonic motifs are combines with crushing strikes in the Final Crusade saga, oppressive consciousness strained tunes playing rhythm like inexperienced prisoner, changing the mood from the hopeful to angry and imperative!
Powerful and precise tough rhythm begins Natural Born Idiot as a confession of his errors to himself. Shot up! He don't want that enymore! Lady's chants brings an explosion of self-criticism to the end, giving a boost for the last chorus!
Mysterious, sacramental and impressive ballad Starseed end that artwork with its romantical symphonic tunes, that chans an emotional desires. There's a lot of spaces, that we hasn't explored yet. But - now we back to home and go to sleep!