June 06, 2017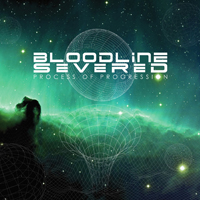 The world does not stand still, the time of change is always and everywhere - and this requires Bloodline Severed - Process Of Progression !
Rigid vortexes of powerful unrestrained musical rage are hovering around Exousia vocal phrases pierced by sparking guitar twists, mixing several vocal styles in a single musical stream.
The changeable rhythm, changing structure and sounding carries so wonderful and exciting melody as leitmotif over the marching Light of frenzy of darkness.
Confession creates dark and sticky atmosphere, starting vocal story grim guttural growling. Then the pensive, clean vocals complements with their emotional reflections this foggy melancholic ballad.
The cryptic mysterious keyboards passages translocates Fire into unexplored spaces, surrounding fickle vocal parts that combine screaming, pure and growling with a mystical fog, based on broken complex rhythmic structures. Grandiose, solemnly and meaningfully marches Legion along the chosen path, the heralds beat out a shot in drums and a stream of light streams from heaven.
Sublime and dreamy melodies are carried to the expansive expanses, creating Perfection atmosphere, enveloping with the mist of dreamy reality and enchanting dreams.
After a muffled, gloomy introduction, Identity creates gloomy melancholic musical atmosphere, enveloping the recitative with an impenetrable dense fog through which flashes of charming melodies burst through. Then vocals tranforms into tough growling alternating with harsh screaming.
The viscous main motif captures Alone into an unimaginable dance, complex and diverse around clean harsh vocals, creating so complex and progressive musical image. I want to listen this son again and again!
Cosmic currents sweep through the vocal dreams of pure vocal, proving that the universe still Alive. Soft emotional melodies creates sparkling dreamy atmosphere, carrying into the vastness of unimaginable sensations.
Rage and anger have reserved in gentle and melodic and sensual ballad Closure, adding more and more shades, increasing and supplementing its sound image with power and energy.
Man Of Sorrows (Bonus Track) finishing album with restrained and tight drive, circling in deadly dance, alternating the furious and angry growling with an emotional and dreamy clean vocals.