June 05, 2017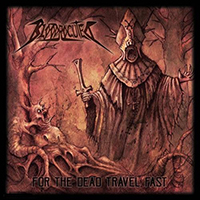 Opportunities, abilities and talents spawn of evil and dark beasts countless and limitless, only Bloodrocuted - For the Dead Travel Fast can resist it!
The majestic, solemn and glorious march The Land Beyond the Forest begins the album with the significant symphonic instrumental saga.
The Leper and the Whore Rushes into the impetuous unrestrained drive, combining ragged harsh vocals with a powerful instrumental stream. Approaching the ending, the vocal resorts to wise teachings, broadcasting old traditions. But a rapid and rapid instrumental fracture pushes to the completion of the tale.
Vortexes of dark energy are circling in enchanting dance, drawing Perversion of Purity to its realms. Vocal begins with an emotional tense harsh style, changing on tough and severe growling in the chorus.
Wound in Shadows сontinues the chanting of the dark scrolls in the whirlwinds of gloomy tunes, starting with the leisurely riffs, then exploding with the flash of powerful and tough drive.
A charming symphony rises in the roar of the rain and the chime of the bells, then dark, but lovely ballad Denial of the Cross, then rushing into the impenetrable abyss of the furious drive, in rush burst combining screaming, harsh and growling in the vocals - sweeping away all obstacles on the chosen path!
Vocal immediately starts the fairy tale of Cult of Sacrifice, alternating in bright and memorable duet harsh and growling styles.
Starting in the twilight haze, the pensive muffled whisper opens the gate for the title track For the Dead Travel Fast, starting like the majestic anthem of dark evil wizards. Further the fairy tale continues in so gloomy manner and average pace, enveloping with the whirlwinds of dark and frightening motifs, the composition's end smoothly turns into the introduction of the Ominous track, develops as the majestic instrumental saga. But the vocals complement this musical stream, alternating screaming with growling and harsh, surrounding the axis of the main motif with vortices of various vocals styles.