May 23, 2018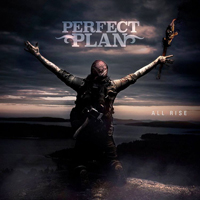 Inspiration with a majestic wave envelops vocal reflections, raising the inspired romantic images of the Bad City Woman main motive with vivid keybords passages, starting the Perfect Plan - All Rise album with inspired joy, dissipating dissatisfaction and bad mood.
With a powerful dense rhythm, the bass guitar part has a major influence on the In And Out Of Love musical image, after undisguised joy combining reflections and doubts, supplementing with anxiety of guitar riffs and doubtful vocal phrases.
The dense drive is hovering with urgent vortexes, the guitar solo complements this spinning Stone Cold Lover dance with melodical shades, keyboards notes bring artistic hues and sublime atmosphere of symphonic orchestral spirits.
The guitars are combined in a stringy, elegant, indestructible base, the keyboards are carried away in exuberant dreams, the vocal leisurely reflects about the lost and unknown that have Gone Too Far in so romantic ballad.
Musical motifs mimic a mysterious ornament in which the vocals seek the best path, pacing What Goes Around motives from side to side among the sparkling shades of keyboards passages in the vortex of guitar riffs.
Epic motives inspire memories of the past days, returning from oblivion the past, flicking dust off past experiences, enveloping the mediocre mid-tempo Too Late composition, approaching the ballad because of the romantic atmosphere.
Intriguing the mysterious musical passages calls for improvements in the surrounding world, after an inspired drive in the middle of the composition indulging in leisurely meditations - but all of us Can't Turn Back, in no case! There's no sense to retreat, no use to surrender! The following composition Never Surrender explains the meaninglessness and impossibility of taking refuge from the battle or avoiding a collision. Responsibility persistently and confidently appeals to valor and courage. Twisted in conjectures in an atmosphere of musical ambiguity, the vocal lists a variety of options, beginning the completion of the album in an intriguing composition 1985, sorting through the variations of further development, like prayer beads. Choosing a more dense and rhythmic sound What Can I Do, wakes from musical motifs an exciting and reliable robe for vocal confessions. Finishing the final part and the whole album Heaven In Your Eyes is carrying away to dreams, encouraging about further prospects.