May 24, 2018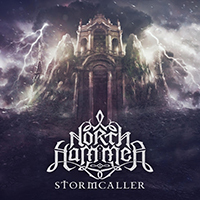 The atmosphere of the mysterious chats of the invisible spirits precedes the dense and severe wave of drive, rolling up the exciting Avatar motif and starting the conceptual saga of the North Hammer - Stormcaller album, thoughtfully interrupted by reflections in bridges and choruses. The tunes of the band that gather warriors in a campaign enveloped in a soft melodic canvas develop into the main motif of the composition circling in a bewitching dance, captivating Wanderer for more and more trials and adventures.
Encouraging the ancient spirits from the grieving mountains, forests and seas deliberately meditates on reading Written in the Stars legends and carrying out the necessary rituals, then enchanting motives circulate in a leisurely dance, supplemented with keyboards passages, combining northern folklore with sublime symphonies.
Powerfully and confidently the wave of drive rolls, urging vocal reflections to follow in its tight Magic Mead march, enveloping phrases with enchanted covers and sweeping the stream of discreet drive in the bridge. In the instrumental part, with a thoughtful chorale, progressive melodies sparkle against the background, transforming artistically the perception of the composition.
The noise of the battle appers on the background of the appeal of the twin brother to go into battle begins the pulsating Tip of the Spear battle march , which draws comrades in arms under the banner of honor and valor to go into battle. A bit hardened and fettering with the armor of the experienced battles, wise phrases of A Soldier's Song continues the style of the previous composition, enchanting with romantic melodies in instrumental bridges.
The epic atmosphere of the instrumental romance Black Forest Rain is wrapped up in an acoustic guitar search, ending with a noise of rain and distant thunder. Melodic romance continues into the sound of a thoughtful Spellbinder introduction, which ends with a violent drive and ends with inspired vocal phrases and a swift stream of musical drive that replaces the rhythmic structure in the compositional fragments. But romanticism returns in the instrumental part, charmingly weaving melodious guitar passages in the final segment of the song.
Marvelous melody fascinates in instrumental parts and bridges, majestically and confidently heralding North Hammer story in verses.
The viscous, heavy melody of Lion's Winter introduction is intertwined in a single musical image with rapid couplets, continuing the tale with stiff vocal reflections, ending with the mid-tempo instrumental bridge. Such a diverse completion of the album is intriguing with the expectation of the next band's artworks.