January 23, 2022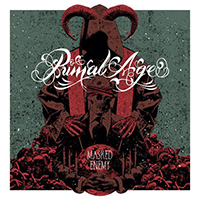 The introduction of the Primal Age - Masked Enemy album is a girl's narration about the troubles and dangers that await many people who have nowhere to go and no choice to change, then the music hardens with the joint severity of the Intro & Wise Old Man musical dylogy. The Devil Is Hidden In Shadow track is at once brutalized by the vocal fury, then intertwined in a single musical stream with a whirl of guitar riffs, continuing the same sound in the musical narrative of the Adolescent Humanity song, which transforms in the chorus, capturing the thoughtful significance of the lyrics.
The sound of The Two Heads Monster musical image continues with alternating bursts of drive and mid-tempo meditations. The Masked Enemy title track builds the main motif from the guitar solo intro, sometimes transforming its sound and varying the tempo and other musical features.
The drumbeat and angry proclamation of the intro create a rebellious mood and stir up anxious anticipations with the revolutionary urges of the I Warn You song, which continues with The Downside Of Progress romantic guitar solo, somewhat pacifying in anticipation of the furious drive of the Who Dares Wins track, which alternates harsh vocal reflections with an energetic assault with furious rebellious vocals, combining the vocal contrasts in the joint vocal part of the chorus. The guitar solo of the instrumental section captivates with its melodic sound.
Embracing the intro guitar solo as the main motif, the Passion VS Fashion musical image eclipses the dominance of the compositional structure of the vocal part until the final guitar solo, which anticipates the exhilarated artistry of the Blinded By Cruelty composition, varying the rhythm and sound in unexpected combinations, preceding the Awakening Of Consciousness artistic, pensive guitar solo.