September 15, 2020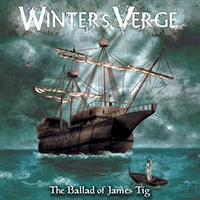 The It Begins symphonic introduction captivates with incredibly sublime melodism, then the vocal phrases begin the narration of the Winter's Verge - The Ballad Of James Tig concept album's fairy tale. Preserving symphonic charm, the A Thousand Souls supplements the music with elements of drive, sometimes accelerating in a fast-paced race of musical passages, but then again returning to orchestral symphonies.
The bell chime of the Dead Reckoning intro continues with the inspired narration of the vocal part with a transforming musical symphony. The Timeless music creates a symphonic atmosphere for the vocal duo, in which special attention should be paid to the voice of the invited lady. The mysterious twilight of the Killagorak instrumental symphony, supplemented by background chorales, sets the atmosphere for the introduction of the next song, transforming into a whirlwind of drive with accelerated musical passages and rebellious vocal tunes. But the I Accept composition in the chorus returns to the majestic symphony in which the singing lady also takes part in her enchanting voice.
The keyboard passages give epic meaning to the Blood On The Foam musical narrative, complementing the hardened vocal phrases with the grandeur of the symphonic accompaniment. Again, the compositional construction of The Sea epic saga is based on the alternation and combination of female and male vocals. The title composition completes the album, bringing in folklore notes and embodying The Ballad Of James Tig bard's tale.