September 15, 2020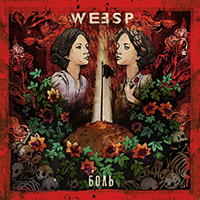 A vocal monologue with keyboard notes in the background begins the Weesp - Боль album, slowly connecting a whirlwind of emotional drive in the verse, weaving musical fury with vocal indignation. In the Мотыльки chorus, the music returns to leisurely romanticism. Again, the Железный Край vocal part begins with a leisurely narration, the music is combined with vocal phrases in a soft romantic atmosphere, but then 1 develops into a dignified ballad, preserving the romance with somewhat saddened shades.
Slightly accelerating the tempo, the Настоящим song builds up waves of restrained drive, crowning the vocal frenzy with keyboard notes. The romantic mystery of the Выстрел В Небо intro prepares for an explosion of emotions and frenzy of musical combination with vocal emotions, combined in the inspiration of a mid-tempo composition. The Пустота music and vocals are intertwined in an atmosphere of romantic dreams.
The Красный Коридорvocal part walks through the atmosphere of majestic images, captivating with emotional colors and unforgettable experiences. Vocal phrases are immediately brought to the fore of the Кто Мы Есть musical image, then the music complements these reflections with pulsating waves of a majestic anthem with a grinding guitar solo. An acoustic version of one of the album's songs Железный Край (Акустическая Версия) concludes this release with a soft and tender ballad full of romantic images.