September 15, 2020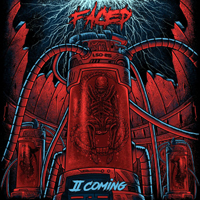 The title track starts the Faced - II Coming album, pumping up harsh waves of mid-tempo drive, complementing the musical power with the emotions of the vocal part. The Talk Shit seems to continue the musical style of the title composition, bringing the vocal part to the forefront of the musical image.
Complicating the guitar solo and rhythm section of introducing the charm of progressive musical influence the Fuck My Life speeds up a bit at first, but returns to a mid-tempo march with vocals introducing. Raising the banners of valor in the introduction the Power and Strength continues the musical narration with the rhythmic procession of the battle march. The Just Let Me Be expands the stylistic framework, starting with the soft melody of a romantic ballad with gentle vocal phrases. But then, while keeping the ballad style, the vocals and music become bitter.
The base guitar Drop intro's solo then builds up the mid-tempo waves of musical severity, crowning them with vocal fury. The intriguing development of the guitar solo ends with a furious vocal scream, then arranging the Laced compositions in alternation of furious harsh and dreamy clean in the vocals. Whipping up the spicy spirit of the wild west prairie 1 with vocal narration, the Smoke It then complements this atmosphere with a guitar solo of the instrumental part.
Entering a muted romantic musical passage, the Me to You then hardens to a mid-tempo march, sometimes returning to mysterious romanticism again. The Citizen Zero closes the album with a stern parade of mid-tempo twilight anthem, combining vocal fury and musical melody.