October 19, 2016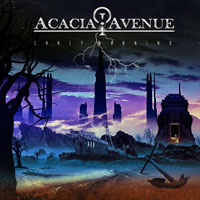 Someone already, someone constantly, anothers - only found out Acacia Avenue - Early Warning !
Real Love empowers with hope, pushing for action that bearings improvements and achievements for the greater benefits.
Rhythmically hammering footsteps in the road ahead with understanding that Running Out Of Time. In no case can't be delayed while striving for improvements, that have to be immediately implemented!
Melodic lyricism reminiscent of the unrealized Broken Dreams, but it's all in the past - the sublime guitar passages directs vision for the future.
The title track Early Warning starts guitar rampage of colors without any hesitation. And in such a lively and saturated manner takes the entire composition.
Painful and gloomy mood set with guitar riffs of entry, but we must be able to Survive! Exalted keyboard passages give hope and faith - we will survive!
Ornate guitar riffs surrounds romantic vocals with its eddies and dances in lyrical romance, signs A New Beginning destined for all & everything around.
Viscous, tough and heavy guitar breaks shackles attention, explaining in that hard'n'dense ballad - TNT should be afraid!
Space and the universe yearn for exploration, so hurry to Space Truckin' (Deep Purple cover), there is more unknown than has already been researched! Clear predictable riffs permeates the entire track as leitmotif, calms time to time for the nervous vocals speeches, that indicates - that's the Time To Listen to it!
All For Love means as the first words then often repeating - exalting it above all of the another desires!
Swaying, slowly and thoughtfully marching music indicates that Need To Let Go! Guitar bursts represent a rhythmic pattern, not allowing doubt to break the order.
Acoustic guitar sets sublime romance manner by its fingering riffs to the lyrical ballad The Man In The Mirror, chants what necessary to think about every time, as you can see. Every day, several times a day ... oh, how often! No refuse, no remorse!