October 12, 2019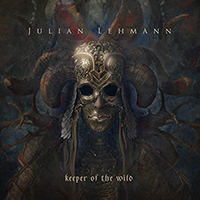 The title track begins the Julian Lehmann - Keeper Of The Wild album with a military march, but then the violin improvisations complement the sound of the composition with epic notes and the atmosphere of heroic sagas. Playful Happy Little Irish Troll dancing motifs adds a few festival notes to the album's musical image, preserving a bewitching melody.
Next, The Awakening Of The Giant fascinatingly weaves a musical load of several folklore styles, combining the motives of the northern peoples, seasoning them with some shades of classics and Russian folklore. Ornate artistry interweaves mesmerizing violin motifs with free guitar variations, enchanting with the sound of unity of epochs of the Chapter Iv composition.
The echoes of the keyboard passages give praise and resemble the sound of an ancient harpsichord, violins and cello pick up these Ancient Memory bewitching musical covers, ennobling them with their sound. But the Troll Dance modern sound is once again returning its style, in a dancing style, bringing a discreet drive. Mjolnir continues the style of the previous composition, but gives it greater combat readiness and divides the guitar and orchestral parts into different musical planes of sound.
A saddened The Loner thoughtfulness brings the atmosphere of northern fjords to the album. The Fiesta intro sets a note of sadness, but then the guitar solo rebels against the violin sadness and creates a contrasting charm to such a debate. The main motive of the Beautiful Loneliness song again transfers to the northern expanses, enveloping in the pensive lyricism of the northern ballad. The chime of the bell ends with musical sadness, but then the Daydreamer guitar motifs erect a musical canvas and a rebellious dance, crowned with notes of violin calls. Alone In The Universe concludes the album with a unity of incredible sadness, but again the guitar passages bring a wave of indignation and resistance, alternating with a saddened symphony again and again.