August 30, 2017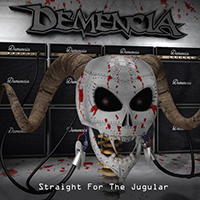 Rapidly, quickly and sharply, Beast Inside Me begins the Demencia (ECU) - Straight for the Jugular album, after brief preparation in the intro sweeping wave of furious drive, the vocal restrains instrumental impulses, mysteriously and crypticaly creating some shade of doubts.
Pulsates in a complex, volatile rhythmic structure, Mass Aggression introducing a certain shade of progressiveness and techno-type of this musical style. Vocals and instruments competes in meditation and unpredictable moves.
After a melodic introduction and a short phrase, Between Heaven and Hell reveals the depth and anxiety of experiences - to stand on the verge of good and evil, to feel both heaven and hell. Music pulsates in a changeable rhythm, interesting and varied all the time.
After rejecting complex, volatile experiences, the introduction of Domesticacion sweeps a wave of unrestrained. But, the simplicity and confidence with the introduction of the vocal is replaced by a changeable progressive manner. It is worth noting that the vocals turns to Spanish, which gives this composition additional bonuses, as for me.
Power, rage and anger rush in the eye-popping drive of the title track Straight for the Jugular dark forces, sweeping aside the defenders on their way, coloring everything around in dark shades of evil and entrancing temptations. The chorus is walking more calmly and confidently along the paved path.
Confidently and unbrokenly interesting and meaningful music Pain Is Pleasure drows out his passages, creating a peculiar image, pulsating in the canvas of the main motive, which is constantly changing, overgrown with new and new shades After complex, unpredictable and hard-to-guess changes and structures complete album Wall of Death, a sharp and undeniable sweeping furious flow of powerful drive and Ruidos, returning to progressive musical decisions, whose vocals in Spanish.