August 31, 2017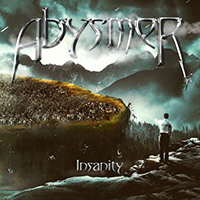 Prologue starts the Abysmer - Insanity album, interested in a quiet, tranquil melody that combines instrumental ideas in a bright, memorable keypoint.
Begining bass guitars solo signs - next instrumental saga?! Hey, guys - where's vocals?! But it joins to the Law of Tallion story, leitmotiff of it have signed in the intro, but vocals brings a lot of interesting shades to that song, as for me.
So powerful, unyielding drive pulsates in the Liar introduction. But the leitmotif of intro enslaves vocals, instruments and everything... all around!
Think thoughts in the skies, it is inconceivable to them to another reproach the entry is over? No, Never Gets Dead! Vocal bears us the meaning of this heartbeat, indicating all the shades of history, accompaniment accompanies it with bright and memorable changes.
The spirit of inspiration, introduced by the legends of style In the Arms of Fear, is transmitted by the whole listener, supplementing it with energy and zeal.
Title track Insanity continues the theme of the war, indicating that a furious drive is accompanied by destruction. The music becomes angrier and more severe.
Explosions, gunbursts of accault and machine guns, bright, meaningful and fascinating intro, echoing the siren begins Rising Skyfall completes the military theme and the whole album in rapid, fast and unbridled drive .