October 24, 2020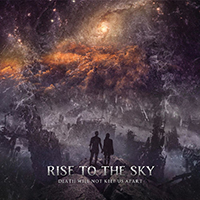 The unhurried procession of insoluble sadness of the From The Distance composition begins the Rise to the Sky - Death Will Not Keep Us Apart album with a gloomy procession of ghostly messengers of grief, continuing the motives laid down by these gloomy guides in the next composition Pain And Blood, which even more darkens the vocal phrases with austere significance.
The lead guitar solo sparkles with hope, then the vocals lift the banner of the Together In The Grave solemn anthem. The When Death Comes vocal part transforms, dispelling the growling gloom and enchanting with the dreamy narration of clean vocals, only occasionally complementing it with background growling phrases.
The High Up Above song's guitar riffs create the gloomy solemnity of an important procession around the vocal phrases. Growling vocals parade in the foreground of the musical image, clean vocals complement it with wordless tunes in the choruses. The sound of song The Final Choice alternates between inspirational tunes of clean vocals and harsh growling phrases, complementing them with the leisurely epicness of a brooding saga.
The mid-tempo march procession brings vocal growling to the forefront of the Death Will Join Us musical image, complementing it with the melodic charm of guitar solos, instrumental bridges and backing vocals of clean vocals. The We Are Not Mourning song rebuilds the musical composition on the basis of alternating clean vocals with fierce growling. The final composition of the album Dancing In The Dark (Death) brings the hopeful melodies of clean vocals to the forefront, complementing with the background growling chants.