March 05, 2022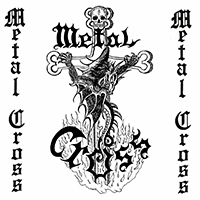 A shriek of horror prepares you to listen to the Crucifying The Virgins song, which begins the musical narrative of the Metal Cross - Metal Cross (EP) release with a readiness for challenges and a militant character with the determination to face any enemy. The guitar solo of the instrumental charms with an artistic melody with the leitmotif of the musical composition in the background.
A soft and melodic guitar solo with a thoughtful vocal reflection serves as an introduction to the With Heart And Honour harsh and persistent mid-tempo battle march, hammering its footsteps into the road dust of the chosen path.
The bright guitar solo of the intro raises expectations of further artistic sound of the Waiting For The Dawn composition, continuing with a romantic ballad, but then speeding up the tempo and adding to the sound in ways of musical variety and drive keeping the melodic charm.
The guitar solo of the Feed The World intro charms with echoes of epic sagas, inspiring memories of heroic deeds of the past, then combining in a single musical flow with the pressure of a battle march in a valiant narrative of bardic tales and military fables of wandering bards. The Metal Cross title instrumental track draws the final line of this release, fiercely armored with an unyielding drive, combining in a single musical pattern a musical thriller and the majestic echoes of a solemn celebration with an epic anthem.