March 04, 2022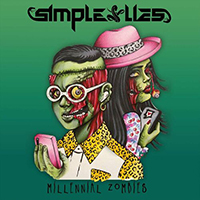 Musical passages create a worthy support to witches' tunes of the singing lady, raising them to the top of the musical image in The End chorus. The 567 Hate! composition continues the sounding of the Simple Lies - Millennial Zombies album with insistent rhythmic heartbeat, alternating in the dominant role the chants of the vocal part and bright flashes of the guitar solo.
Notes of rhythmic narration with echoes of blues and southern rock create a fascinating unity of styles and genres in the sound of the Mr. Leg Day song with charming tunes of female vocals. Sparkling joy and inspired mood of communication with family and friends is embodied in the sound of the Weird Uncle thoughtful ballad, charming the listener with restraint of rebellious rage. After the appeal of the joker, the sound of the Prince Of Darkness composition rolls up with harsh, dense mid-tempo waves of sound, ending again with the joke.
The Millennial Zombie album's title track brings a progressive mystique to the album's sound, intriguing the transition to the verse, then condensing the rhythmic structure and introducing notes of artistic variations to the sound. The On A Stage Together acoustic ballad brings the charm of the male vocals to the album, enveloping it with soft covers of romantic sensuality and unhurried reflections. Rhythmically, powerfully and densely, The Cage march rolls in irresistible waves of pressure, raising on their crest a confident and thrilling vocal narrative with notes of oriental spiciness.
The rolls of drive and the significance of the background created by the bass guitar prepare the atmospheric support for the Flat Brain Society vocals narrative, then soar with a bright guitar solo, acting as the Ravencock leitmotif and foreshadowing the completion of the album with the Here Lies Her Ghost ballad.