April 01, 2021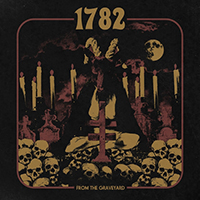 The gloomy Evocationis (Intro) accession enhances the listener atmosphere of twilight mystery, while driving the direction of the march of the musical style of the 1782 - From the Graveyard album. The Chosen One complements the musical twilight by the narration of their own history, moving the thoughtful vocal reflections through viscous musical twilight.
A viscous and painful musical procession is persistently progressing on the chosen path, an inventive musical canvas entry into the pensive trends of the guitar solo. Then the vocal story of the storyter goes to the forefront of the Bloodline musical image. Leisurely and intriguing rolling waves of twilight anthem, the Black Void song complements the stylistic framework of the album with epic echoes of forgotten fairy tales.
Vocals and music alternate its influence in the sound of the Inferno composition, creating a twilight haze of an unclear mysteriousness, which fonds into the atmosphere of mystical omen. Gnashing guitar solo sets the direction of the march theme song, and then adding to this beautiful stern and irresistible march, slowly but powerfully and harshly procession on the Priestess of Death track's chosen sound trail.
The musical mysteriousness of the Seven Priests song alternates with thoughtful phrases of the magician fairy tale, broadcasting like an impenetrable dusk. The In Requiem composition is painstakingly, significantly and undoubtedly puts the final point in a music release.