December 21, 2019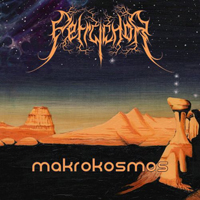 Vaguely, unclearly and mysteriously, the introduction of The Place Where the Red Stars Hang composition slowly and pensively intrigues the listener with options for the further development of the musical image. But then the introduction of vocals gives a clearer essence of sound, developing a completely redesigned composition of the Petrychor - Makrokosmos album, giving it emotional nervousness and complementing vocal phrases with an epic procession of musical passages. Then, keyboard passages, artistic in mystery, come to the forefront of the musical image, vocal phrases complement dreamy musical fragments with charming background tunes.
The acoustic chime of guitar strings precedes the trend of folklore motifs interwoven in a bewitching dance. Then the music becomes denser and tougher, vocal tunes complement the sound of Ceaseless White song, while retaining a charming melody. Planets Born of Human Ash introduction again captivates with soft acoustic guitars fingering, setting an artistic charm with a keyboard background, then bringing to the forefront of the musical image a keyboard solo. The vocals complement the solemn grandeur of a proud anthem, slowly walking and creating an epic atmosphere that captivates the listener to fly in interstellar space and fascinates with the immensity of the universe. The final fragment of the composition complements the sound with drive and unbridled severity, lifting the guitar solo to the top of the musical sound.
The last composition of the album Cosmic Irrelevance Does Not Suggest Terrestrial Insignificance once again envelops with the muffled covers of an intriguing introduction, complementing the musical mystery with a muffled vocal whisper.