December 19, 2020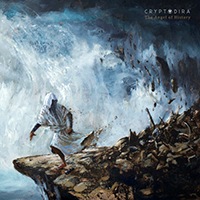 Drum roll rolls out the track of the Self-(Affect/Efface) musical canvas, complementing the sound of the vocal dispute. Then the vocals expand their influence, combining screaming, growling and epic inspiration from clean vocals, reflecting the incredibly wide stylistic boundaries of the Cryptodira - The Angel of History album. Percussive cymbals anticipate the Dante's Inspiration vocal dispute, which is initially dominated by harsh and warlike growling, but sometimes retreating to the emotional melodies of screaming.
The vocals come to the fore of the musical image, entwined with sparkling ribbons of the Ontology of Pain solemn anthem. Clean vocals in this composition are transformed by muted pensiveness. The Blame for Being Alive (feat. Sam Raia) begins with soft and unhurried musical musings, walking in an embrace with the romantic reverie of clean vocals, but then the sound of the musical narration hardens in combination with the angry unity of the screaming and growling of the vocal part. But then the clean voice of the guest singing lady brings the romantic atmosphere back to the musical narration.
The majestic procession of A Tendency to Fall solemn anthem builds the compositional structure on a debate of clean vocals and growling, which is then complemented by angry screams. Rolling in harsh waves of mid-tempo drive, the What Can't Be Taken Back then crowns them with a growling, then complementing the vocal severity with screaming emotions. Then the dreamy romance complements the sound of the composition with a ballad, first with clean vocals and at the end with growling, anticipating the tender ballad of the introduction of The White Mask Speaks (feat. John Carbone) composition, in which the participation of the invited musician will leave a very significant contribution. The final composition of the album Something Other Than Sacrifice begins with the epic clatter of a pulsating percussion heartbeat, then embodies all its familiar features.