September 28, 2021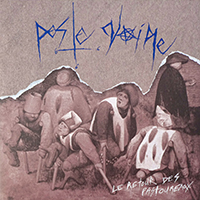 The story and the narration of the sage and the La Bataille de Sarcelles track opens the gate of the story of the Peste Noire - Le Retour Des Pastoureaux conceptual album, completing these phrases with an acoustic chime to the guitar strings, transformation composition in the bard saga. The Chiendent composition complements the orchestral symphony of the medieval horror of the plague, complementing this atmosphere by the horrific emotional revelation of vocal narration. But then the music is transformed by the fierce, complementing the vocals rupture with the corresponding drive and changeable musical transfigurations.
After the announcement of the narrator, the vocals goes to the forefront of the Cacatov musical image, combined with the alarming appeals of musical variations creating an atmosphere of horror and frightening expectations.
Acoustic guitar passages are combined with thoughtful vocal reflections in the atmosphere of the Les jolies cannes gloomy fairy tale.
After anxious and thoughtful reflection of a leisurely entry, complementing the gloomy atmosphere of expectations of sparkle, but the alarming musical passages the Haut les schlass ! initially prepares for musical the fierce conversion by the vocal party with a creamy screaming, then combining music and vocals in a single rapid stream of impairing grief.
The acoustic bards fairy tale anticipates the transformation of the Blues Arverne musical entity with the effect of several genres, while maintaining the commitment to folk elements. The vocal party also comments the transformation from thinking to angry screaming vocals and the completion of the song with mysterious phrases of a singing lady. The Lettre a personne story completes the musical narration of a conceptual album with background musical tunes and a vocal narrative of a singing lady.