May 10, 2022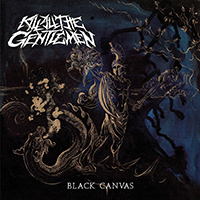 The Change is the Only Constant begins the musical narrative of the Kill All The Gentlemen - Black Canvas album with a charming veil of instrumental symphony, acting as an introduction to the rolling drive of the Claw Marks composition, varying the rhythmic structure and combining screaming and growling in the vocal part. Then instrumental variations bring the melodic charm of epic musical sagas.
The guitar solo of the Eyes for Medusa intro sets the whirlwind of the main motive, then enveloping the vocal narrative in the veils of the Snakes twilight musical fairy tale. The Ground Beneath the Weeds composition rolls in waves of stubborn musical drive, adorned with sparkling reflections of melodic charm.
After the unbridled onslaught of the intro, the vocal part intertwines with musical passages in the hit whirlwind of the Giving Gets You Nothing musical thriller, embellished with sparkling artistry of melodic echoes and transformations of rhythmic essence. The Doomsayer song spins the twilight flywheel of a dark musical tale told by an invisible warlock in the mysterious melody of dark spells and black magic.
After developing a variety of musical stylistic directions and genre nuances, the band displays their own creative rethinking of the legendary artist's It's a Sin (Pet Shop Boys cover) song, anticipating the end of the album with a swift whirlwind of unbridled drive of the Death Black composition.