September 18, 2020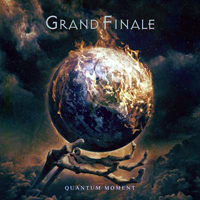 The symphonic atmosphere of the musical lace captivates with the influence of classical music, but then the Human anticipates the vocal intro with a pulsating drive. Accentuating the inspirational vortex of the World Of Glory symphony with rhythmic fills, then weaving symphonic accents and inspirational vocals into a single musical lace, continuing the Grand Finale - Quantum Moment album's sound with more charming phrases from the singing lady. The vivid inspiration of the sound of the Fly To The Shangri-La composition pushes the vocal part to the forefront of the musical image, after which the Silent God rises in a swift drive, enveloped in a mystical atmosphere of mysterious echoes of wordless chorale. But the vocal part pacifies the musical sound in the verse, returning to the swiftness in the chorus, crowning it with vocal inspiration.
Transformed by sublime reverie, the 君は鳥 continues the musical narration with a romantic ballad, rolling waves of mystery with a keyboard symphony, but then accelerating the pace in a disturbed sound. The Fly Away, while maintaining a symphonic atmosphere, accelerates the pace in a fast-paced race, and hides keyboard notes and vocal emotions. Sparkling and mesmerizing with the intro's musical anticipation, the Moment then alternates between vocals and guitar solos in an artistic atmosphere. Accelerating the tempo the Again track keeps the inspired sound of a sublime symphony.
Wrapping vocal phrases in a union of epic sagas and futuristic shades, the Unchanging Days composition discards the difference between ages. The Last One vocal part wraps around the stern procession of the stubborn march, hiding in symphonic tunes along with it. The last song of the album This Is Amazing underlines and embodies all its inherent characteristics.