September 18, 2020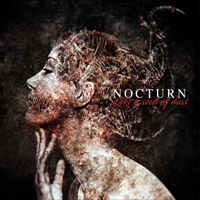 The Nocturn (FRA) - Like a Seed of Dust album's symphonic intro captivates with a majestic opening, then accelerates the tempo of the musical narration of The Wraith in Bloodied Wings composition, crowning the alternation of demonic growling and epic inspiration of the singing lady in the vocal part. Enchanting with the melodiousness of the guitar solo, the Pandaemonium intro brings a fast-paced drive to the musical narrative, interspersed with melodic digressions.
Beginning with a vocal monologue with electronic pulsations in background, the La Belle changes the lyircs to French and brings industrial notes to the musical sound. The Infernale is сontinuing the set musical motives of the previous composition, the music lifts the inspired tunes of the singing lady to the crest of the wave, complemented by the screeching of scream-growling. Combining industrial notes with rebellious moods, the Liberhate brings some echoes of punk rock to the album's musical picture.
The title track of the Like a Seed of Dust album brings a charming union of male and female vocals to its sound, continuing this style in the Back from Hell next composition. Speed and drive intertwine in a mesmerizing dance with symphonic melody, then bringing the inspired scream growling to the forefront of the musical image. But rhythmic pulsations and vocal phrases wrapped in musical symphony add to a charm of the Under the Darkest Sea composition.
The Wasted Earth vocal part, alternating and combining growling with screaming, come to the fore of the musical image, then complementing its sound with harsh and clean vocals and industrial musical notes. The Instant d'eternite lightens the sound and complements the album with notes of popular music, combining them with the demonic echoes of screaming and growling. The Odyssey finalization of the album embodies his sound in a constant transformation of tempo, rhythm and style of musical narration.