June 26, 2022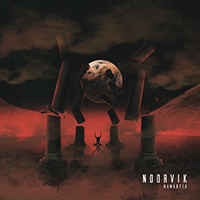 The mysterious musical atmosphere of the intro envelops the listener in a haze of vague guesses, preparing for a long time and carefully to perceive the true musical essence of the Tantalos composition, which begins the Noorvik - Hamartia (EP) album with a long and very varied musical creation. The Hybris thoughtful ballad develops a musical canvas of twilight reflections and displays saddened memories in a leisurely musical procession.
The mysterious Omonoia musical introduction slowly and leisurely prepares the listener for the perception of the Ambrosia long, thoughtful and atmospheric musical saga, thoughtfully embodying the chosen musical paths in unhurried and sophisticated musical variations, developing the musical motives of the introduction and complementing them with the melodic charm of soft and gentle melodies that enchant with their sound. The Feast musical composition at first continues the musical style of the previous track, gradually developing it into the gloomy essence of a dark anthem, embodying gloomy guesses and ghostly shadows of invisible opponents in the twilight mystery of the impenetrable twilight.
Again, the Aeon composition acts as an intriguing mysterious introduction, enveloping the listener with mystical veils of echoes of ancient legends in the varied Atreides musical tale. TheTartaros composition paints the final musical story of the album, slowly narrating the echoes of ancient ancient legends and legends about the afterlife and the being of souls after the end of the life path.