June 26, 2022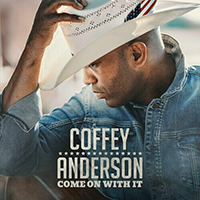 Music and vocals are intertwined in a charming dance of the bewitching unity of the Coffey Anderson - Come On With It album's title track, which opens the musical gates of this musical story with a bewitching musical artistry. The Good To You composition immediately brings the inspired vocal narrative to the forefront of the musical image.
Slowly, thoughtfully and captivatingly, the Blessed musical fairy tale is preparing a vocal ascension to the crests of musical waves. The America Is My Hometown composition pulsates rhythmically into the intro, maintaining a soft and sensual musical urge, emphasizing the title in the sound.
The Drive On Back song immediately brings the vocal part to the fore, bringing notes of recitative into the stylistic charm of musical diversity. Enchanting with the soft acoustic chime of the strings, the She Ain't No Chevy composition brings to the sound of the album a calm and enchanting atmosphere of native places, peace and comfort.
Vocals take the lead role in the sound of the Friday Night song, giving special significance to the recitative and captivating with stylistic combination and musical variety. The Ain't As Lonely (Feat. Dillon Carmichael) final composition of the album diversifies its sound with the voice of a guest artist.