April 16, 2021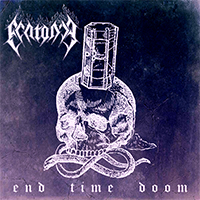 The thoughtful of the mysterious ballad with a soft lane chime starts the Ecatonia - End Time Doom (EP) album with a romantic mood, an up-to-date surf's noise. But then the Demons Of Perversion vocals emotions are saddown by the riding on a pale horse of gloomy drive, at first passing on the verge of a medium-dimension drive, sometimes squeezing the pace into unity with the severity of the growling.
Squeezing the tempo of the musical narration to the twilight symphony of the magnificent Final Sentence anthem, the vocal reflections of melodious thoughtfulness, complementing vocal phrases with shades of gloomy solemnity. The guitar solo of the instrumental part at first accelerates the pace in the zeal to the rapidness, but then combines the unity with vocal reflections. The Final Vision begins with a gloomy viscosity, fused vocal reflections and musical passengers in the twilight mystery of a leisurely procession through the impenetrable fog with the shades of the invisible ghosts.
Intro carries musical passages to the Enemies Of The Universe insurmountable march through hostile streets, preparing for battle with all the goal and impudent confidence in his own invincibility. The Hidden Path entwines musical motifs into a spiral of fascinating sparkling artistry, creating a tunnel around the vocal narration. The End completes the release with a thoughtful instrumental saga of a saddled bard, augmented by the backdrop of the crow.