December 26, 2019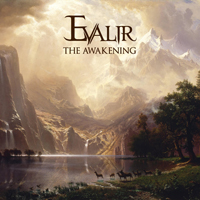 The soft chime of the The Awakening I - Cold keyboard symphony is complemented by the echoes of the distant background of musical passages resembling a wolf howl and intriguing distant expanses - is it safe to travel within these spaces, is it worth fearing during wanderings and foreseeing fierce battles and bloody battles. This composition opens the gates of the Evalir - The Awakening album, suggesting the further development of the musical structure of the narration. It should be noted that the album is one - the names of the songs only divide it into fragments.
After a longing wait, The Awakening II - Aborning pursues impatience for future achievements, rolling waves of adventures and impressions and introducing the spirit of a swift drive entwined with lace of enchanting melody into the album.
The epic grandeur and mid-tempo ripple of the steps of the The Awakening III - Journey procession completes the album, walking along the chosen path after the wolf howl, slowly and meaningfully driving the steps of its path and counting the distance to achieve the chosen goal. Again, instrumental motifs complement the wordless chorales of invisible spirits, this time leaving only audible tunes of fairies within audible limits.