August 30, 2020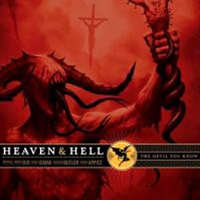 Softly, deeply and painfully the Atom & Evil begins the musical narration of the Heaven & Hell - The Devil You Know album with a gloomy mid-tempo composition, bringing emotion and inspiration with vocal phrases. The Fear continues the sounding with a majestic round dance of mid-tempo musical passages around the emotional charisma of the Dio's vocal phrases.
The acoustic guitar combines with the background symphonism of orchestral motives to create a mesmerizing backdrop for the vocal narration of the Bible Black romantic ballads. But then the composition condenses the sound to the rhythmic mid-tempo of the dense and harsh musical canvas of the dark anthem. The bass guitar solo sets the direction of the Double The Pain intro, then the vocals call for a certain acceleration of the tempo, rolling the turns of the musical drive.
The vocal part comes to the fore in the sound of the Rock And Roll Angel composition, capturing the musical passages to complement the vocal phrases. The Turn Of The Screw song continues the dominance of vocals, but transforms the musical sound with shades of twilight doubt. Accelerating the tempo, the Eating The Cannibals track complements the music and vocals with shades of playfulness and an atmosphere of humor. The deep and viscous Follow The Tears musical narration is crowned with symphonic passages of the organ in the introduction, then the vocal phrases envelop in a gloomy atmosphere.
Pumping up the acceleration of the tempo, music of the Neverwhere song is intertwined with vocals in a mesmerizing dance, combining and complementing their parts with mutual influence. Entering the album's typical viscous burden, the Breaking Into Heaven concludes the musical narration with majestic passages of a dark anthem.