December 21, 2020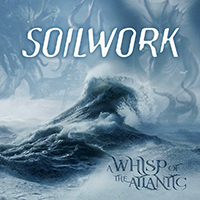 The title track begins the Soilwork - A Whisp Of The Atlantic (EP) album with a long saga - starting with a brooding introduction of a leisurely piano solo, then transforming into a romantic guitar narration, the song brings to the forefront of a symphonic sound the varied and multifaceted reflections of clean vocals, sometimes complemented by waves of drive and inspired melodies of harsh with hints of growling. The emotional component in the vocal part dominates the musical composition, complementing vocal reflections with musical variations of an incredible variety of musical styles.
In The Nothingness and the Devil introduction, the sound of the main motive appears, then the music complements the sound of the album with waves of drive, combining them with the progressive fracture of the rhythmic component of the song. The keyboard symphony creates the intriguing mood of the beginning of the Feverish song, then continues with a fast-paced race of musical drive, crowned with a vocal part of rebellious harsh. But the sound of the Desperado composition further hardens the sound, transforming into a furious whirlwind of a frantic musical thriller, pumping waves of musical severity and fierceness along with demonic growling vocals.
The final composition of the album Death Diviner brings the atmosphere of the wasteland of the wild west, bringing shades of southern rock to the sound of the album, complementing these shades and stylistic notes and so incredible variety of stylistic influences and genre shades of this release.