March 02, 2020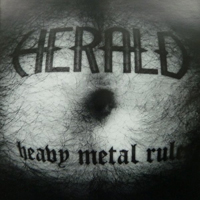 The click of the beer bottle cap that opens, then the music and vocals are intertwined in the medium-tempo severity of the title composition of the Herald - Hevilihas/Heavy Metal Rules album, marching confidently in honor of the greatness of heavy metal.
Bringing the vocal part to the forefront of the Tormiratsanikud musical narrative, the music emphasizes and accentuates the harsh emotionality of the vocal phrases, summing it up with whirlwinds of guitar riffs and a galloping race of instrumental bridges emphasizing the haste of expectations.
Expanding the stylistic framework of release, Korbesurm introduces some trends of musical pre-death, forcing an atmosphere of twilight forebodings and gloomy omens, compressing the sound of the musical canvas to frightening forebodings and introducing vocal emotions of detachment and despair.
Casting aside the opening of the beer bottle and expanding the audience of possible fans, the release presents remastering of songs with English lyrics - first the title track Heavy Metal Rules brings together fans from all over the world, then Quantum Typhoon brings the spirit of fury and drive and Simone in the Sands completes the release with a gloomy atmosphere of mystical omens.