April 26, 2021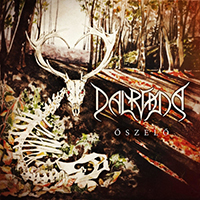 The music of the Ezer elet, ezer csillag song enchants with sparkling melodism, alternating male and female vocals in the vocal part in inspirational tunes. The flute chants bring a more significant influence of folk motives to the introduction of the Rakoczi zaszlaja track, which continues the musical story of the Dalriada - Oszelo album with a romantic fairy tale. Surrounding in a swift whirlwind of restrained drive, sparkling with a guitar solo, the Duvad pacifies the tempo with the introduction of vocals, beginning with the tunes of male vocals, then combining male and female vocals in a duet. But the swiftness of the sparkling drive returns in the instrumental bridge, raising the flags of the chorus.
The album's title trackOszelo begins with a symphony with wordless chorales, then rolls out the musical canvas of the majestic anthem. Entering the musical fairytale with an acoustic guitar solo, the Betyar-altato then continues with the melodic charm of vocal interness and musical melody. The vocal melodies of the singing lady, complemented by the background singing of male vocals, first come to the fore of the Foldanya musical image, then yield to the pressure of the melodic guitar solo, then combine with it in a single musical stream.
The persistent march of the Huszaros epic saga takes the listener into the vastness of ancient fairy tales. The Orokseg begins with vocal proclamations intertwining phrases of male and female vocals with exciting musical motifs. Immediately accelerating the musical tempo, the Oszi enek swiftly soars into sparkling vortices of bright melodies, pacifying the impetuosity with the introduction of vocals entwined with violin motifs. The Ezer csillag ends the album's musical tale.