December 18, 2020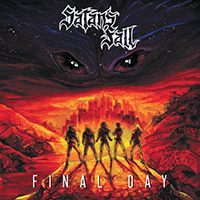 The guitar solo of the Forever Blind intro enchants with majesty, then the music rises with an acceleration of the tempo and complements the sound of the impetuous drive with a vocal part, complemented by bright catchy guitar riffs. The Madness (Finds a Way) continues the musical narration of the Satan's Fall - Final Day album with a memorable main motive, as if recalling the echoes of feats of knighthood and fairy tales.
A vocal phrase articulates the need for the final battle, then the They Come Alive picks up the pace, leaving the vocal part in the foreground of the musical image, reassuring the guitar solos of the instrumental fragments. Pumping waves of harsh guitar riffs, the Retribution confidently and stubbornly walks in the harsh mid-tempo grandeur of a battle march, sometimes raising the banners of solemn valor.
After an intriguing guitar solo, the Juggernaut explodes with the unbridled drive of a musical thriller. Keeping the driving style, the There Will Be Blood transforms the sound with the pulsating rhythm of a combat march, complemented by emotional vocal appeals.
The melodic introduction of a brooding guitar solo transforms into an epic development of The Flame Keeper musical saga. Particular attention should be paid to the guitar solo of the instrumental part. The title track Final Day finalizes the album, starting with a brooding ballad and continuing with a mid-tempo rhythmic narration.