December 18, 2020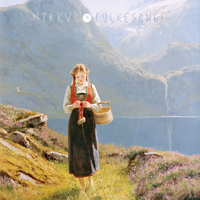 The Ella singing lady's vocal reflections begins the Myrkur - Folkesange album's musical narration with an inspirational monologue, then complemented by gentle echoes of ancient rites. The chime of guitar strings in thoughtful echoes intertwines with the Fager Som En Ros vocals part in a leisurely round dance of folk motifs. The muted vocal phrases of the Leaves Of Yggdrasil ancient tale are combined with chimes of strings and the soothing orchestral tunes of instrumental fragments. The Ramund braids with wordless tunes of comrades-in-arms in a vocalization that tells the northern legends. The bright melodies of female vocals open the gates of the Tor I Helheim epic saga that combines the melody of folk motifs, medieval atmosphere and the charm of forgotten fairy tales.
Music, setting the direction of the Svea main motive, is then intertwined with enchanting wordless tunes, after which the Harpens Kraft enchants with a soft and tender ballad, supporting the main vocal of the singing lady with singing girls. The violin solo captivates with the stringy melodism of the intro, then sparkling vocal phrases come to the fore, then weaving these elements into the Gammelkaring composition's lace. After the motives of northern folklore, the House Carpenter takes us to the open spaces of the prairies, changing the lyrics to English and expanding the stylistic framework of the album with country-style.
The vocal part comes to the fore of the Reiar musical image, enveloping the listener with echoes of ancient fairy tales, then continuing the Gudernes Vilje charm of folklore motives with wordless melodies. The acoustic chime of the strings complements the vocal phrases with the enchanting romanticism of ancient tunes. The piano solo begins the final composition of the album, then it is complemented by wordless tunes, leaving a sparkling impression of the Vinter instrumental finale.