August 28, 2017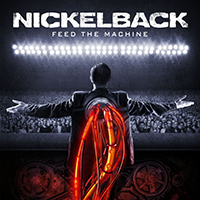 Without the slightest delay, the title track Feed The Machine begins the Nickelback - Feed The Machine album.
Powerfully and strictly following the chosen path, she firmly and confidently follows the next composition, that remembers the ancient story.
Ancient, repeatedly repeated story Coin For The Ferryman sounds powerful and exciting - modern interpreting, distortion of vocals and guitars, although it sounds like an echo from the 60's, but still transformed into the modern phenomenon.
A bright story that Boy Scouts and Pioneers tell each other at the fire - that's it, Song On Fire. Campfire, the best kids tells their stories!
Hard blues, many years later, weakening the rejection of the past charges - Must Be Nice have to be accepted or rejected as well! Check you face in the mirror!
Thoughtful, discreet grunge in After The Rain creates an atmosphere of memories, returning former merits and achievements For The River continues the atmosphere, supplementing it with in vocal solutions. The atmosphere of vigilant attention remains at the forefront.
Dark waves of anxiety are embedded in the restrained ballad Home, not hurrying to appeal to thoughts and reflections. But vocals and music sweep the solemnity of sound to the top of perception. Great, cool - have to listen that! That's great, as for me! Hardly and severely introducing emotions and feelings into music The Betrayal (Act III) complements the album with an incredible amount of drive, restrainedly and sensually creating an atmosphere of future anxiet.
Unthinkingly and irresistibly, Silent Majority carries away in the stream of thoughts ... sometimes distracted by restrained reflections, but again rushing into uncontrolled flow.
Reflections, acoustic guitar - the spirit of youth over all! Everytime We're Together gives it exciting and in due form ... oh, how young we were! We will more and more!
Gentle meditative search of guitars, distant flute creates a magnificent and exciting The Betrayal (Act I) introduction. There's no need for any vocals - keep calm and listen to it again and again! Some medieval bards will appear there as well! Forever and ever!