May 02, 2023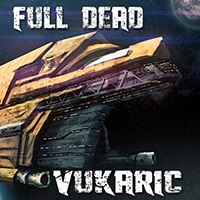 The title track begins the Full Dead - Vukaric album with fascinating reflections and the mystery of vocals guesses.
Guitar passages complicate the musical structure, intertwining with vocal phrases in a complex dance of the progressive nature of the sound of the Hyper Vile City composition, with separate notes of drive and vocals bitterness.
Again translating into the sound of the Into the Void song expands the vocal framework of the album, combining vocal rage with artistic musical transformations, continuing progressive musical experiments in the intriguing development of the Absolute Zero composition.
The progressive complication of musical variations accompanies the vocal bitterness of the Isolation musical tale preceding the vocals ascension, emphasizing the rhythmic essence of the John Cleevish musical march with the preservation of vocals transformations.
After twilight vocal reflections, the Take Me Away composition enchants us with a mesmerizing guitar solo, continuing the artistic guitar celebration in the enchanting intro of the Anti-Matter final song, which concludes the album with a leisurely pace.