June 08, 2020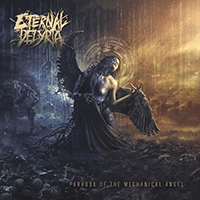 A muffled ghostly whisper, a croaking of a raven and the Chrysalis mystical symphony, ending with a chorus, begins the narrative of the Eternal Delyria - Paradox Of The Mechanical Angel album, acting as a mystical mystery of the introduction to the next composition From Skin To Rust, crowning a stream of severe drive and the unity of screaming and growling in the vocal part with the covers of the bewitching symphony of the album's introduction.
The artistry of the keyboard passages intertwines with a harsh drive in a breathtaking unity of the sublime Burning Bridges symphony and power of throbbing musical fury. Starting with the thoughtful romanticism of the minstrel guitar solo, Beyond The Veil then rushes into the procession of the solemn anthem, twisting the alternation of screaming and growling with swirls of sparkling ribbons of melody and creating a bewitching background with wordless chorales. A whirlwind of the fast-moving drive of the intro, Dying To Live is crowned with the covers of artistic symphony, this unity is sometimes supplemented by pulsations of electronic impulses, bringing into the sound notes of an industrial style.
The mystical mystery of the mysterious haze acts as an instrumental introduction to the Damaged System majestic anthem, combining an impressive unity of symphony and drive, artistically varying the melody and rhythm of the musical narration. The rhythmic pulsations of the Amaurosis harsh industrial musical style marches further with a confident procession of the Freely Enchained dark march crowned the symphonic charm of keyboard suites.
The indignant incrimination of incapacity for change precedes the next interweaving of an epic atmosphere, symphonic stylistics and the severity of unity of the vocal styles of The Awakening song. The Until Death concludes the album, complementing this unity with the sparkling impulses of electronic music and futuristic elements.